1. Watermelon smoothie:
Smoothie watermelon is an extremely simple dish, just a few ingredients and a little time, we have a smoothie watermelon Great aroma, great cooling for the body.
How to make: Prepare about 300 grams watermelon, cut into small pieces, mix cashews with 1 box of yogurt and 180 ml of condensed milk. Then puree the mixture overnight with some ice cubes.
If you like it sweeter, you can add condensed milk or honey, according to the dose you want.
2. Watermelon jelly
Jelly watermelon is an eye-catching dish with fresh red color and sweet taste, jelly watermelon promises to be a "mellow" dessert that anyone everyone is crazy. The way to make this dish is also extremely simple:
Ingredients: 1/2 fruit watermelon, 10 g celery powder and some white granulated sugar
How to do it: 
Grate the intestines watermelon and squeeze out the juice, keep the empty shell to make a mold

Mix mixture: jelly powder, filtered water and white sugar. Then cook with low heat, remember to stir to prevent the mixture from clumping.

When the mixture boils, slowly add the juice watermelon  into the pot, stir well for about 8 minutes and then turn off the heat.
Put the jelly into the mold watermelon, Wait for it to cool for about 30 minutes and store it in the refrigerator to use it gradually.
3. Watermelon jam: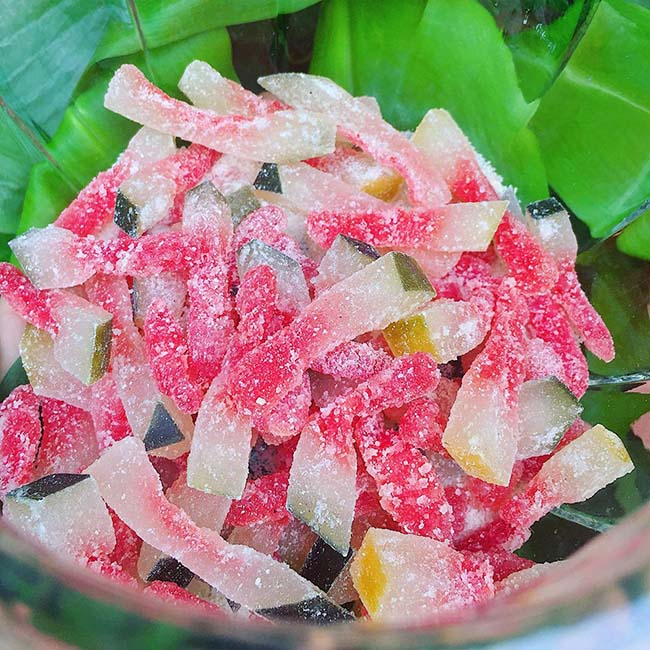 It sounds a bit strange that watermelon how can you make jam, please see the recipe for making jam watermelon  later. The sweet, lumpy, and juicy jam watermelon will be worth keeping the watermelon pulp after eating:
Ingredient:
2 or 3 watermelon

White sugar and salt
How to do it:
Peel watermelon outside green, take the pulp and cut lengthwise into bite-sized pieces, soak in dilute salt water for about 15 minutes and then wash
Squeeze the intestines watermelon get water. Marinate the melon pulp with sugar and juice watermelon within 3 hours to create color.

Place the mixture on the stove over high heat, until the mixture boils and slurries, then reduce heat. Note that you often stir your hands to let the jam infuse evenly, until the sugar is dry, turn off the stove.



4. Soft watermelon cake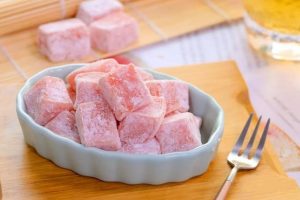 Hearing the name is already attractive, the way to make cake watermelon flexible is very easy to do. The ingredients for this cake are also quite easy to find, almost in any kitchen. Why not curl your hands in the kitchen, make a plate of delicious watermelon cake watermelon delicious to treat guests who come to visit your house
Ingredient:
1/2 fruit watermelon

120g glutinous rice flour

White granulated sugar and coconut rice
How to do it:
Squeeze out water watermelon, mix with glutinous rice flour and a little sugar, stir well. Next, pour the mixture into the cake mold, steam for about 30-40 minutes.

After the cake is cooked, let it cool for about 15 minutes and then store it in the refrigerator for about 45-60 minutes. Remove the cake from the mold and cut it into small pieces. Roll it with shredded coconut or roasted glutinous rice flour and you can enjoy it.